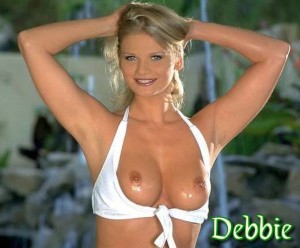 Lots of times, I like kinkier phone sex, but yesterday I wanted more classic GFE sex, so I went down to the local Y. It was late, and they were closing, but they let me in anyway. As they were closing up, it was just one young man, I supposed he was a lifeguard, and he was doing what he could to make sure the pool was ready for the next day. I asked if I could take a dip, and he said he didn't mind. I shucked my cover-up, and then I let him ogle me for a bit. When I saw how much he appreciated what he saw, I began to, piece by piece, remove my bikini.
When he caught sight of my big bouncy breasts, he lost his balance of what he was doing, and he fell into the pool himself! I had to go fish him out, but by that point, I'd "somehow" lost my bikini bottoms, too. And while saving him, he, um, "accidentally" managed to lose his trunks. What a shame!
We ended up fucking in the deep end of the pool of the YMCA, with much bobbing and floating and attempts to hold onto the side of the pool. My back got all scratched up from him thrusting me against the wall, but I didn't care – with the water and the heat from him, it felt very, very good. And we left, well, a bit of a mess in the pool for the visitors today!